5x Museums In Amsterdam Red Light District
Posted on: septembre 23, 2020
---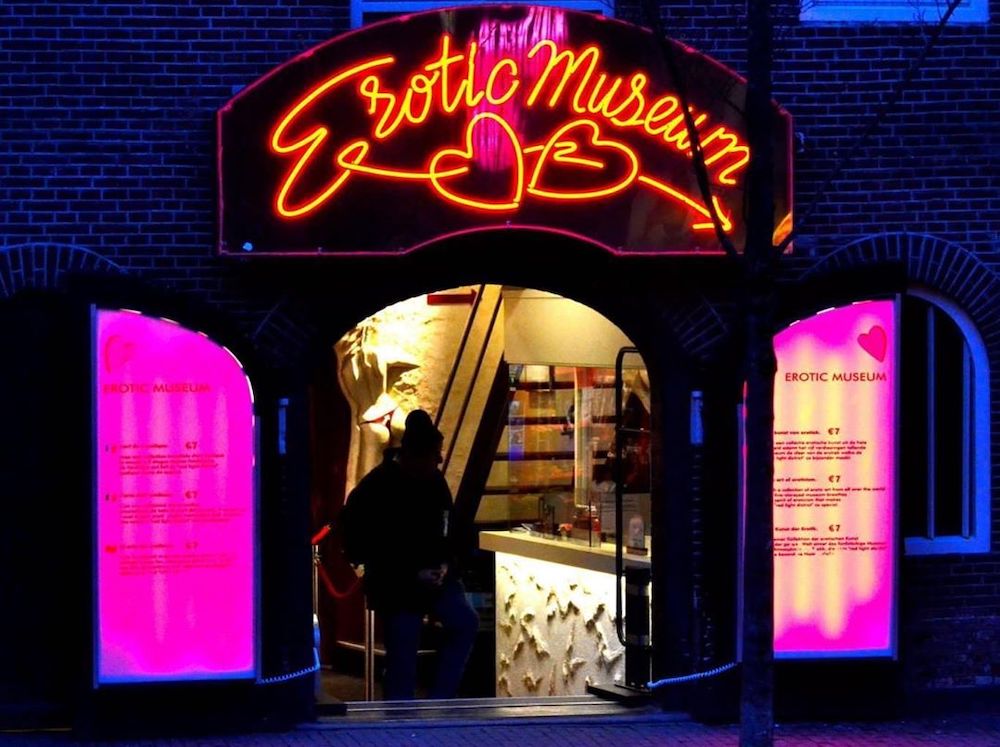 5x Museums In Amsterdam Red Light District
If you go to Amsterdam without knowing the attractions and fun activities, you might get bored. It would be a shame if you missed the city highlights and you don't want to end up in tourist traps or boring cafes. The solution? Check out this list with five things to do in Amsterdam and impress your fellow travellers with these original and educational activities.
There is a lot to do in 'De Wallen'. Also for those who want to learn something. There are currently five museums in Amsterdam Red Light District. At these museums you can learn more about cannabis, prostitution, the Red Light District, religion, erotica and… watches.
1 | Hash Marihuana & Hemp Museum

In this museum in Amsterdam you can view cannabis plants up close, among others.
Located on the famous street in the Red Light District one can find Amsterdam's cannabis museum. It was founded in 1985 by one of Holland's most important cannabis pioneers: Ben Dronkers – who's also the CEO of Sensi Seeds. He was one of the first to become commercially involved with cannabis in Amsterdam from the 1970s onwards.
Did you know that at one time in Europe 80% of all clothing was made out of cannabis hemp? And did you know that it is illegal to grow cannabis commercially in the Netherlands?

It offers audio tours in many languages.
Visitors to the Hash Marihuana & Hemp Museum can expect to find world's largest collection of artefacts relating to the history of cannabis, its cultivation and its uses over the centuries. The cannabis collection is located on the ground floor where one can get an audio tour in six different languages. This museum in Amsterdam Red Light District is not too big and a visit takes about 30 to 45 minutes.
✦ Hours: 10 AM – 10 PM
✦ Price: 6 euro
BUY TICKETS >
2 | Red Light Secrets

An interactive exhibition inside the Museum of Prostitution.
Do you want to know what it is like to stand in the windows? Do you want to learn prostitute become successful? Or do you want to see what a brothel looks like from the inside? Then visit this Museum of Prostitution, named Red Light Secrets. Here you can learn more about legal sex work in the Netherlands.

What does it feel like to stand in the windows?
Inside you can also read 10 ways how sex workers become successful. We listed three of them:
POSTURE. Pout those lips and work those hips. Stand upright and accentuate your curves.
CHEERFUL. Make sure you look cheerful. Men don't enjoy spending money in a surly woman.
STAND OUT. Sitting quietly like the Mona Lisa will not get you attention. When you go unnoticed, you will have no business. Make sure to stand out.

The museum even has an imitation window brothel.
Red Light Secrets used to be a building with real window brothels, but the city of Amsterdam bought it from a sex entrepreneur during Project 1012. The municipality wanted more variety in the Red Light District, so since 2014 the Museum of Prostitution has been around. Visit it and get educated about one of the oldest professions in the world.
✦ Hours: 10 AM – 12 PM
✦ Price: 12,50 euro
BUY TICKETS >
3 | Our Lord in the Attic

Inside Ons Lieve Heer op Solder.
One of the best hidden gems in Amsterdam is this secret church, located at number 40 on the Oudezijds Voorburgwal in the Red Light District. Our Lord in the Attic is one of the oldest museums in Amsterdam. The second oldest to be exact, only the Rijksmuseum is older. It was established in 1888, its attic served as a Catholic church for two centuries. A hidden church in which Catholics could worship covertly when it was forbidden to do so in public.

The last hidden church in Amsterdam may not be missed!
This church within a 17th-century Dutch house has been beautifully preserved. It offers an authentic glimpse into a house of a rich man during the affluent Dutch Golden Age. Here you can learn more about the history of Amsterdam and religion in Holland.
✦ Hours: 10 PM – 6 PM
✦ Price: 12,50 euro
BUY TICKETS >
4 | Erotic Museum

You can have a lot of fun at this museum.
The Erotic Museum in Amsterdam is located on the Oudezijds Achterburgwal and portrays the history of eroticism and sex through the ages. This is one of those museums in Amsterdam where you can take perfect photos for your Instagram account. It is a kind of Instagram museum as it offers numerous erotic art objects that will impress your followers.

The Erotic Museum is a great place to update your Instagram-account.
This museum is owned by the same entrepreneur who also manages the erotic theatre Casa Rosso, strip club Hospital Bar, Sex Palace Peep Show, The Bananenbar and Sexy Loo.
✦ Hours: 11 AM – 12 PM
✦ Price: 7 euro
MORE INFO >
5 | Watchmaker Museum

You have to go through this narrow alley to enter this museum.
Watch enthusiasts can indulge themselves at the Watchmaker Museum which is surrounded by window brothels, a 5d Porn Cinema, a daycare and the Old Church. The Watchmaker Museum in Amsterdam is brand-new as it opened its doors in August 2020.
The owner – Ralph Jansen (53) – has decorated the four floors with amazing, rare watches in all shapes and sizes. Jansen has been browsing auctions for a few years in search of watches with the best stories.
'I'm fascinated about the passion of watchmakers. They spend so much time creating something that you don't think is possible at all. Yet they make it. Bizarre!'
The Watchmaker Museum is not only interesting for watch enthusiasts: here everyone can learn more about watches in an accessible way. For example, on the ground floor there is a collection with the first automatic watches. Three floors up people can see a watch that can play music from the Backstreet Boys. There is a collection of watches worn by astronauts, as well as a wall dedicated to watches from famous films such as The Da Vinci Code, Back to the Future, Knight Rider and Pulp Fiction. This new museum in Amsterdam also has unique spy watches, erotic watches, steam punk watches, special features watches and many others.
"Every watch in the museum has something special. It's about the story behind it. " You can get the best experience with a tour of the obvious connoisseur and enthusiast Ralph Jansen.
✦ Hours: 10 AM – 7 PM
✦ Price: 10 euro
BUY TICKETS >
REGARDE AUSSI:
15 Things To Do In Amsterdam Red Light District
15x Must See in Amsterdam Red Light District
Amsterdam Red Light District Prices